The challenges faced by the global health and healthcare sector are set to continue in the future. The near-term issues include worsening mental health, healthcare workforce shortages, supply chain issues, climate change-related challenges and macroeconomic instability. The longer-term challenges include growing demand for services, an increasing funding gap, a lack of incentives for innovation, widening disparities in overall health and wellness, and variable access to advanced therapies.
These challenges are complex and interconnected. Reshaping our healthcare systems to cope with them is a pressing global concern.
This is a key issue tackled in the World Economic Forum's'Global Health and Healthcare Strategic Outlook, which sets out "a shared vision for health and healthcare by 2035".
As we approach'World Health Day'on 7 April, here are eight current global health and healthcare trends we need to contend with as we aim to transform systems to become more sustainable, resilient and equitable.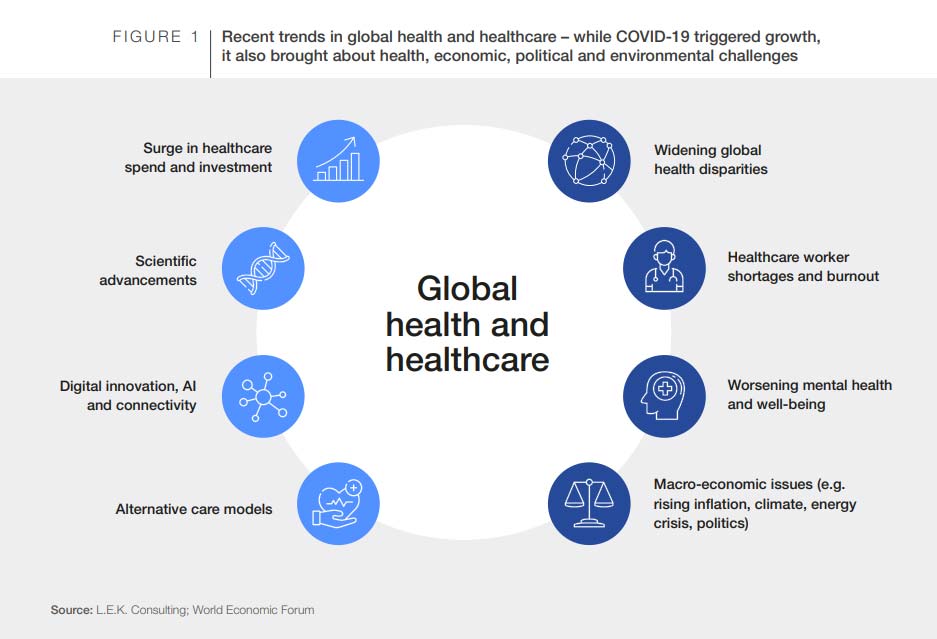 1. Surging healthcare spend and investment
Global healthcare spend is thought to have grown more than 40% between 2018 and 2022, reaching $12 trillion. At the same time, healthcare investments have also reached record highs in recent years, with attention on areas such as gene immunotherapy and new mRNA vaccines for diseases such as Zika and malaria.
2. Scientific advancements
Alongside this investment, we are also seeing progress in treatments and diagnosis of disease. Precision medicine using biomarkers is increasingly being used, while advancements in liquid biopsies, for example, are changing how cancer is detected.
3. Digital innovation and AI
The pandemic fired rapid digitalization across healthcare, as with other sectors. And in 2021, digital investments in the healthcare sector nearly doubled to $57 billion, with an emphasis on telehealth and mental health. Tech companies are increasingly focusing on healthcare, while digital health start-ups are also growing rapidly.
There is also growing attention being paid to data – better aggregation and analysis is enabling more informed insights and potentially also prediction and disease modelling.
Meanwhile, AI is being used to support areas including diagnosis, clinical decisions, monitoring and treatment, and workflow. AI-assisted medical imaging is already in use, and many drug companies are exploring AI-assisted drug development.
4. Alternative care models
We are increasingly recognizing the importance and power of care provision outside of hospitals, in homes and communities. In fact, growth in expenditure on health provision and care at home is expected to outpace healthcare spend in nearly all other areas. This investment will be used to further home diagnostics, home-administered drug delivery systems and patient monitoring devices, for example.
5. Widening inequalities
The pandemic highlighted significant disparities in healthcare coverage, particularly impacting women, children and adolescents. Low- and middle-income countries were particularly affected by disruptions to essential healthcare services. Future healthcare provision needs to focus on closing these gaps and making healthcare affordable and accessible to all.
6. Healthcare worker shortages and burnout
The pandemic took its toll on healthcare workers, adding to an already stressed and overworked workforce. Mental health issues and burnout worsened, leading to many professionals leaving the sector as well as reduced recruitment. The fall-out from this continues to be felt, and compounding pressures within the system mean the problem is not alleviating for many.
7. Worsening mental health and well-being
Poor mental health is a worsening issue in society more broadly. Systems have largely underplayed its importance in comparison to physical health, while pent-up demand for support and delays in intervention are exacerbating the problem. Widespread isolation, stress, uncertainty and loss during lockdowns has left its mark on many people.
8. Macro-economic issues
Challenges being played out on the global stage also filter through to our healthcare systems. Geopolitical tensions, soaring energy prices, inflation and supply chain issues all create increasing costs and friction for the healthcare system. Meanwhile, environmental concerns and the climate crisis are exacerbating many health conditions and the prevalence of some diseases, and also creating challenges in relation to the sector's sustainability.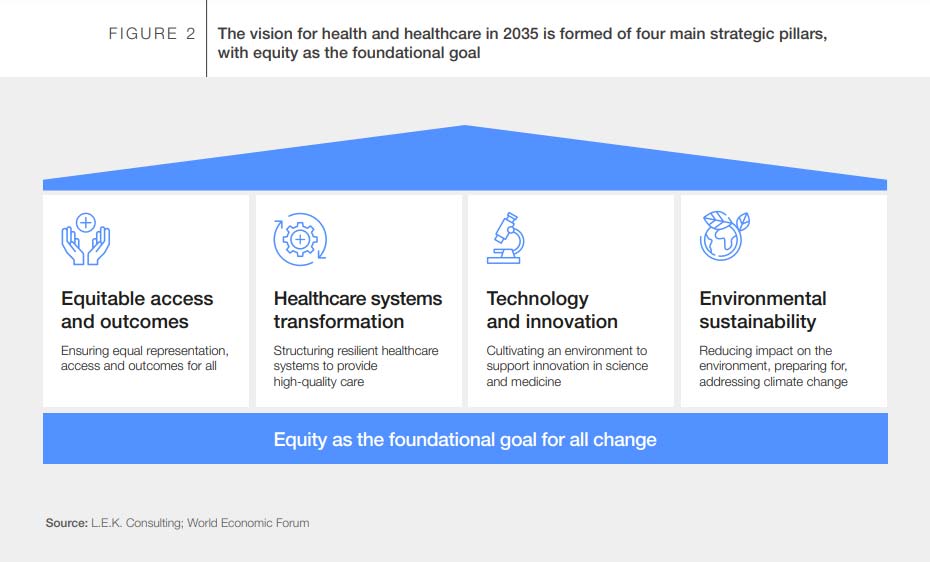 The World Economic Forum sees equity as the foundation of healthcare in 2035.'Image:'World Economic Forum.
Transforming healthcare to create a system fit for the challenges it faces now and in the future requires cooperation and strategic partnerships.
As the World Economic Forum lays out in its report, there are four strategic pillars which need to be addressed: equitable access and outcomes; healthcare systems transformation; technology and innovation; and environmental sustainability.
Collectively, these pillars can be used to support systemic, long-term change and build better health and healthcare across the world.
---
Written by
Website
This article was originally published by the World Economic Forum on 5 April 2022.
link