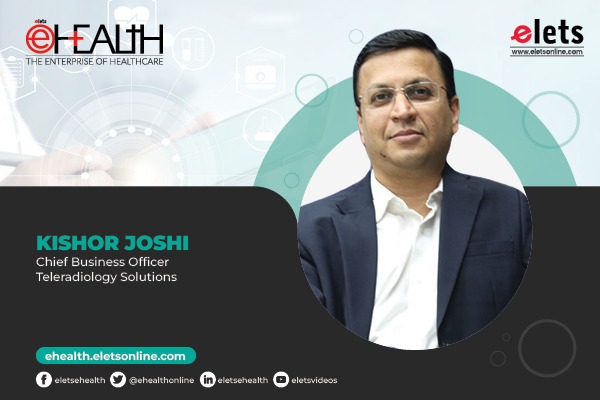 The ability of technology to be used as a point of care by both patients and healthcare practitioners has changed over the past five years and will continue to change over the coming decade, shares Kishor Joshi, Chief Business Officer, Teleradiology Solutions with Kaanchi Chawla of Elets News Network (ENN). Edited Excerpts:
How can key emerging healthcare technologies transform public health?
With the introduction of the government's Ayushman Bharat Digital Mission, the focus on the healthcare system of the country has been rekindled. Subsequently, technological advancements and digitally enabled care will make it imperative for the public health network of the government to embrace the technological innovations that different players in the industry are offering.
Emerging technologies such as artificial intelligence and telehealth encourage rapid and reliable data analysis and unfold unexplored avenues for establishing networks and collaboration between healthcare centres in India. Currently, teleradiology is seeing considerable traction in the country, and its benefits can be leveraged by the public healthcare system through shared access, expanding the reach of specialty diagnosis, improving emergency radiology services, and thereby aiding and improving patient care.
Our work in Tripura helped us gain practical insights into the potency of collaboration. With low-cost digitisation tools, training to the last mile providers, and building a cloud-based teleradiology reporting infrastructure, we were able to manage the radiology diagnostic requirements of an entire state and make sure that quality diagnostics were provided by experts based out of the metro cities.
How can we leverage health related data to improve information dissemination and healthcare delivery?
With new-age diagnostics and imaging, the amount of data generated across various healthcare systems is massive. Making this data available in a format that allows for realtime data analysis, storage, and correlation is a game changer. AI and NLP-based data analysis will allow for longitudinal data studies and population health dynamics to be made available at the point of care, thereby improving clinical outcomes. This data dissemination in a structured manner will allow for better healthcare delivery and disease prevention, as well as enable drug discovery programs to scale.
What are the potential challenges for health technologies?
As healthcare transcends towards digitalisation, we will see the availability of patient data across the cloud and other platforms. In such a case, security can be a concern as the patient's data might be confidential and sensitive.
At Teleradiology Solutions, data security has to be built in and the services we provide must ensure all the necessary measures in terms of access and control. Data security is of paramount importance, and only authorised users should be able to access the data. Similar to the digital banking system, multi factor authentication must also become a standard for accessing global health records. In the radiology world, we already have a PACS (Picture Archiving and Communication System) in place for such authentication.
Another aspect would be the lack of a compliant framework for companies dealing with public records. As the health tech domain evolves, this becomes more crucial as it will guarantee a better and more compliant infrastructure.
Do you believe Artificial Intelligence is making a sufficient contribution to the expansion of healthcare applications in India?
Artificial Intelligence is a new and exciting area in healthcare as well as in radiology today. Radiologic images are digital, which qualifies them for computer analysis using deep learning algorithms to detect distinctive patterns.
For example, Neural Assist, which is our in-house developed AI deep learning algorithm, has high accuracy and fast processing capability, analysing several CT brain studies in parallel to detect intracranial hemorrhage. Our proprietary RIS application, called RADSpa, when integrated with the Neural Assist algorithm, can help increase the efficiency of the radiologists and reduce burnout rates and the overall reporting TAT.
Hospitals and doctors may streamline operations, engage patients, streamline procurement procedures, and more with the help of digital care ecosystems provided by health tech companies. What are your thoughts on it?
Technology has always been an integral part of any healthcare solution. What has changed in the last five years and what will change in the coming decade is the way technology can be used as a point of care, not only by healthcare providers but also the users.
Historically, technology has been used only for static work like converting or streamlining some processes. However, with the introduction of AI and NLP, there would be more opportunities for aligning various components of healthcare delivery services across both the horizontal and vertical chains to make the system more effective and efficient.
There are already some technologies that are transforming areas of radiology, as well as the surgical world, where robotics and integrated technology are changing patient outcomes. Targeted delivery systems and the integration of genomics and radionics with the new technology would drastically improve healthcare outcomes across the globe and make it available across various spectrums of societies, thereby providing more equitable access at lower price points. Technology is here to stay with us and extends opportunities to execute things correctly.
What opportunities and threats do you think Indian companies in the healthcare industry face?
As a diverse country, India is dripping with opportunities to become the emerging hub for the healthcare industry. Integrating with existing networks and programs such as the Ayushman Bharat Digital Mission and the National Knowledge Network will ensure that the services provided by Indian healthcare companies are deployed in the most clinically relevant environment. Initiatives such as the Unified Health Interface will enable digital healthcare to be delivered at maximum scale and efficiency.
The strategy in India needs to be focused on providing the relevant solution to a specific challenge. In the case of teleradiology, this includes image digitisation to overcome the challenge of legacy analog images, which are still being used in a primary care setting, along with the use of low-cost router technology.
Some of the other challenges that we can witness in the emergency teleradiology world are a shortage of radiologists and burnout, immense pressure to stick to strict turnaround times, and a backlog of examinations and requirements. There is also an abysmal demand supply mismatch, which further highlights the gaps in the field.
What are the expectations for the future, and where do you envision yourself as 2023 draws closer?
One of the key trends in 2023 will be the application of AI in the field. It will not only enable us to submit high-accuracy reports but will also function as a virtual assistant to the radiologist to improve the quality level of the reads. Sub-specialised teleradiology will promote favourable growth for radiologists to enhance quality care. Uploading, accessing and showing radiology images, reports, and other data on cloud-based collaboration tools can reduce the costs of infrastructure and will make it easy to access the reports anywhere and everywhere by authorised professionals. This is one aspect that needs to be strengthened as we head into 2023.
What do you think about the current state and prospects for your organisation in the digitally driven healthcare ecosystem?
Demand for imaging services persists in outpacing radiologist availability across the globe. A radiologist plays a crucial role in patient care. With imaging playing a prominent role in the modern healthcare system, the availability of radiologists and handling the average workload per radiologist becomes critical for radiology departments worldwide. Hence, teleradiology can be of great value here. At Teleradiology Solutions, we believe in using digital technology to connect and care. Our collaborative environment enables healthcare providers to extend their hours and expand their depth of subspecialised coverage for patients, referring physicians, and hospital partners to provide quality care.
MammoAssist, our AI-enabled platform, examines a mammogram and processes the imaging data to determine the radiologic features of breast cancer. Neural Assist is a standalone AI algorithm that can be seamlessly integrated with RIS and PACS workflows. It generates secondary captured DICOM series signifying the ROIs of the hemorrhage region and an automated report consisting of location and quantification details about the hemorrhage. We are also actively engaging with prestigious platforms like Indian Radiological and Imaging Association (IRIA) and SER India to promote emergency radiology in India and educate the healthcare community regarding its importance.


Follow and connect with us on Facebook, Twitter, LinkedIn, Elets video

link