Kakao Healthcare said it has entered into a business partnership with C&R Research, the country's first contract research organization (CRO), to conduct global clinical trials jointly.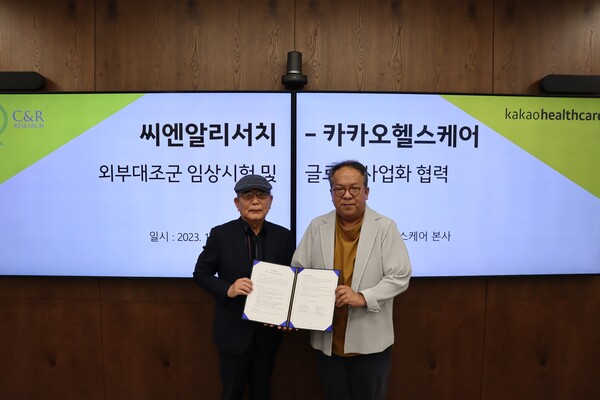 The partnership will combine the medical big data platform and artificial intelligence technologies of Kakao Healthcare with C&R Research's expertise in clinical trials based on real-world Data (RWD) and real-world evidence (RWE). Specifically, they plan to conduct clinical trials using RWD, RWE, and historical trial data (HTD).
According to Kakao Healthcare, there's a growing trend both internationally and domestically in data-driven clinical research and new drug development based on RWD and RWE.
Government agencies are also taking measures to support this movement by refining policies and regulations.
Both companies have also been previously selected as the final operators for the "Smart Clinical Trials New Technology Development Research" project in collaboration with Kyung Hee University Medical Center in July.
The two companies plan to contribute to Korea's leap to the forefront of data-driven clinical trials by participating in the research project and the recent joint business agreement.
"With our partnership with C&R Research, we anticipate designing reliable external control group clinical trials," Kakao Healthcare CEO Hwang Hee said. "Based on Kakao Healthcare's medical big data platform technology, we believe that RWE and RWD-based clinical studies will be executed more intricately and swiftly."
C&R Research CEO Yoon Moon-tae also said, "We will continue to work closely with Kakao Healthcare to establish methodologies for creating external control groups that are recognized both domestically and internationally."
Aiming at the global market, the company is committed to securing expertise across all aspects of external control group clinical trials, positioning C&R Research as the gateway for Korean biopharmaceutical to reach the global stage, Moon added.
link