Healthcare is essential to leading a long, happy life. From self-care to meeting regularly with a provider, these ideas set the foundation for the rest of our lives. But the World Health Organization estimates that some 400 million people lack access to care altogether, leaving them vulnerable to preventable diseases and chronic health conditions. 
U-VOL, or the United Vessels of Love Foundation, is a non-profit organization devoted to increasing access to healthcare services in developing countries through education, community engagement, and resource planning. The group performs missions all over the world providing medical outreach, health education, clean water, hygiene, sanitation, and other healthcare sustainability projects.
It was founded by Faith Adole, who created the program after noticing a lack of women of color and nurses in the global health community. "Representation matters. As diverse as the growing global population is, we need greater diversity and representation of people of color in Global Health leadership now more than ever," she told Scrubs Mag. "In addition, as many of the world has witnessed during the COVID-19 pandemic, Nurses are and have been at the forefront of healthcare delivery. Nurses can provide key insights and perspectives to advancing and influencing healthcare practices and service delivery in our local and global communities."
As a nurse practitioner and experienced chief clinical officer, Adole knows how important it is for everyone to learn basic health information from an early age. But far too many people lack access to the knowledge and services they need to protect themselves from disease and illness. That's why U-VOL is doing everything it can to bridge the information gap. Volunteer mission groups focus on providing free medical relief through healthcare screenings, medical evaluation, treatment, and surgeries, as well as help educate adults and children about the importance of purifying water and other sanitation techniques that can prevent the spread of illness.
"Communities deserve competent and quality care provided by vetted, skilled and well-equipped healthcare providers. Just because many medical mission providers are volunteers and may be providing care in countries with sub-standard regulatory oversight, it doesn't mean quality clinical standards should be thrown out the window," Adole added. "Everyone everywhere deserves the right to safe, competent and quality care."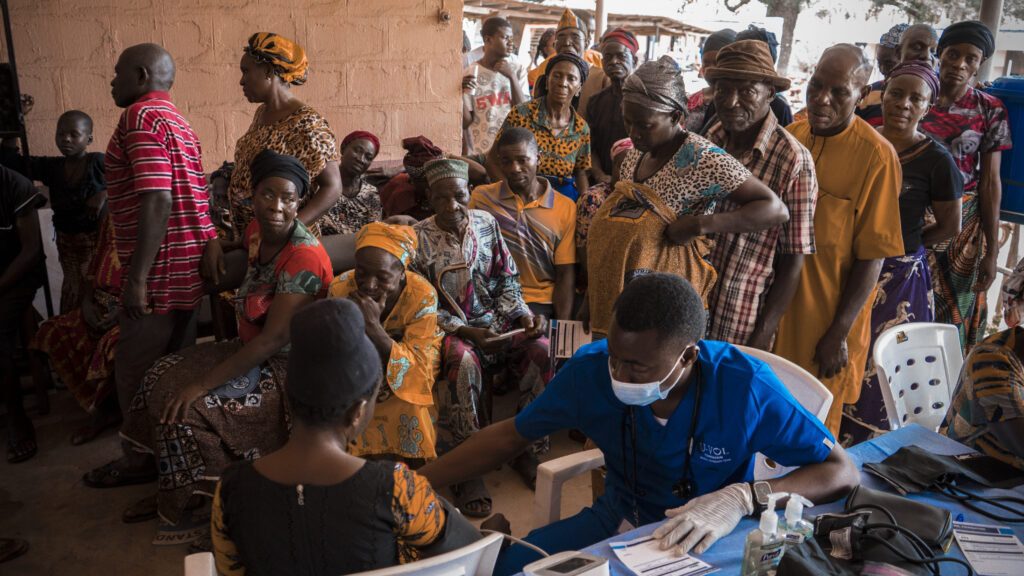 The organization attracts volunteers from around the world who are passionate about preventing childhood communicable  diseases. Adole is also determined to help more nurses and midwives take on global healthcare leadership positions, so they can use their skills to influence policies and programs in the areas that need them most.
"One of the best ways to help solve an issue is to be a part of the solution. Hence, U-VOL was born," Adole explained. "U-VOL started (and remains) in my local community and has grown and expanded to several other communities over time."
U-VOL is a passion project for Adole, who is Nigerian-American with a deep personal tie to the African continent. She is currently pursuing a doctorate in executive nursing leadership and an MBA degree at Johns Hopkins University. All her work as president of the organization is unpaid and performed on a volunteer basis.
Cherokee Uniforms, the largest manufacturer of medical apparel in North America, is a proud sponsor of U-VOL. We donated thousands of scrubs and other uniforms to the group for its recent mission trip in Nigeria.
If you are looking to further your skills on the global stage, consider volunteering with U-VOL to travel internationally with the group. They are currently looking for medical and non-medical personnel. Some mission trips are cost free, but others require airline fees. Visit their website to sign up today.

link