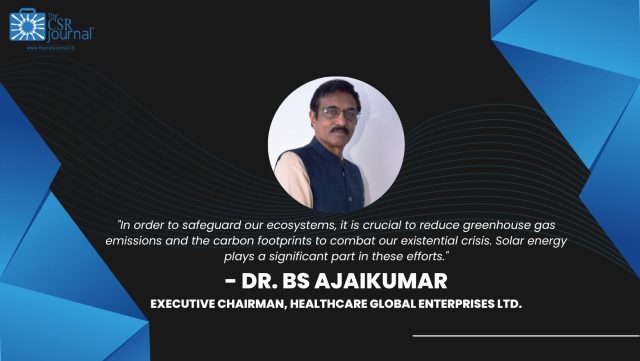 'Renewable energy sources are available in all countries, and their potential is yet to be fully harnessed. The International Renewable Energy Agency (IRENA) estimates that 90 percent of the world's electricity can and should come from renewable energy by 2050. Renewables offer a way out of import dependency, allowing countries to diversify their economies and protect them from the unpredictable price swings of fossil fuels, while driving inclusive economic growth, new jobs, and poverty alleviation… Switching to clean sources of energy, such as wind and solar, thus helps address not only climate change but also air pollution and health,' says the United Nations.
Talking about renewable energy, solar power is becoming a popular choice among environmentally conscious people and organizations.
India's leading cancer care hospital chain HealthCare Global Enterprises Ltd (HCG) recently installed a 2.25 MW solar power plant in a village named Jagaluru in Davangere district of Karnataka. Dr. BS Ajaikumar, Executive Chairman, Healthcare Global Enterprises Ltd opens up to The CSR Journal about the same. Following are excerpts from the conversation.
HCG has installed a solar power plant in Karnataka's Davangere district— Please tell us about this project
In an effort to conserve energy and promote green initiatives towards sustainable healthcare and decreased carbon footprint, HCG has installed a 2.25 MW solar power plant in Karnataka's Jagaluru village, situated in the Davangere district. The newly installed power plant is spread across 7.2 acres of land. The project is HCG's contribution towards improving environmental and social factors through energy optimization and an attempt to achieve zero emissions.
What was the inspiration behind this initiative?
Maintaining our planet's ecosystems is imperative for creating a healthier world for the coming generations and what better sector than healthcare to recognize the criticality of this need. In order to preserve energy and reduce carbon footprint, HCG decided to install the solar power plant. Ecosystem was not conducive for various reasons.
The project is HCG's contribution towards improving environmental and social factors through energy optimization and an attempt to achieve zero emissions. Adapting solar energy for healthcare was always my dream project and later discovered that our partner CVC was also willing to take this ecosystem further. We together as two promoters have taken this initiative along with CleanMax founder Mr. Kuldeep who was willing to do this. That's how this project model was created. We hope to create more models like this.
How much electricity will the solar plant generate every year?
This solar power plant is expected to generate power worth 1040 lakh (3.265MWp) units over a period of 25 years and reduce carbon emissions by as much as 76,200 metric tons. This will result in an average annual savings up to Rs 4.2 crore.
How will this initiative benefit the environment?
In order to safeguard our ecosystems, it is crucial to reduce greenhouse gas emissions and the carbon footprints to combat our existential crisis. Solar energy plays a significant part in these efforts. Conventional electricity sources use tons of water for cooling, processing and refining the fuel and also affect the quality of air by burning fossil fuels which produce harmful gases such as methane and carbon dioxide. These harmful gases cause chronic bronchitis, respiratory and cardiovascular problems and in some cases cancer as well. By utilizing power plants, we can reduce the consumption of water by industries to generate power, reduce air pollution, help slow climate change, reduce our reliance on fossil fuels.
Do you have plans to install similar solar power plants in any other part of India?
In its phase one, the solar power plant is implemented at HCG's flagship centre in Bengaluru's KR Road and HCG Suchirayu Hospital in Hubli. In future, as a part of phase 2, HCG intends to implement this initiative across all its centres in other regions.
Why do we need more solar power plants in India in the present day?
Solar energy is a green Initiative and obviously, it will benefit all. India is energy-dependent and has a large population base. Industrialization, urbanization, future fossil fuel and future climate change are major factors detrimental to the survival of the planet. These kinds of green initiatives, zero carbon, climate initiatives, and carbon usage impact are the only way we can save the planet. We hope other industries and the public at large take up similar initiatives so that we can save the planet.
link